4 Group Executive Board
The Group Executive Board had six members on December 31, 2021: the CEO, the CFO and the four Business Group Heads. For additional information about the Group Executive Board members please see below.
Permissible activities outside the Autoneum Group
According to §20 of the Articles of Association*, no member of the Group Executive Board may assume more than four additional mandates. No more than two of these may be held with listed companies; they have to be approved by the Board of Directors prior to acceptance. This restriction does not apply to (a) mandates held with companies that control or are controlled by Autoneum Holding Ltd; (b) mandates assumed by a member of the Group Executive Board by order of Autoneum Holding Ltd or companies under its control; (c) mandates held with companies that do not qualify as companies within the meaning of Art. 727, para. 1, clause 2 of the Swiss Code of Obligations; (d) mandates held with nonprofit organizations and foundations as well as pension funds. The number of mandates pursuant to (c) and (d) is limited to a total of 20. Mandates held with various legal entities that are under joint control or controlled by the same beneficial owner count as one mandate. Mandates held with the supreme management or administrative body of a legal entity that is required to be registered in the commercial register or an equivalent register abroad count as mandates.
Management contracts
There are no management contracts between Autoneum Holding Ltd and third parties.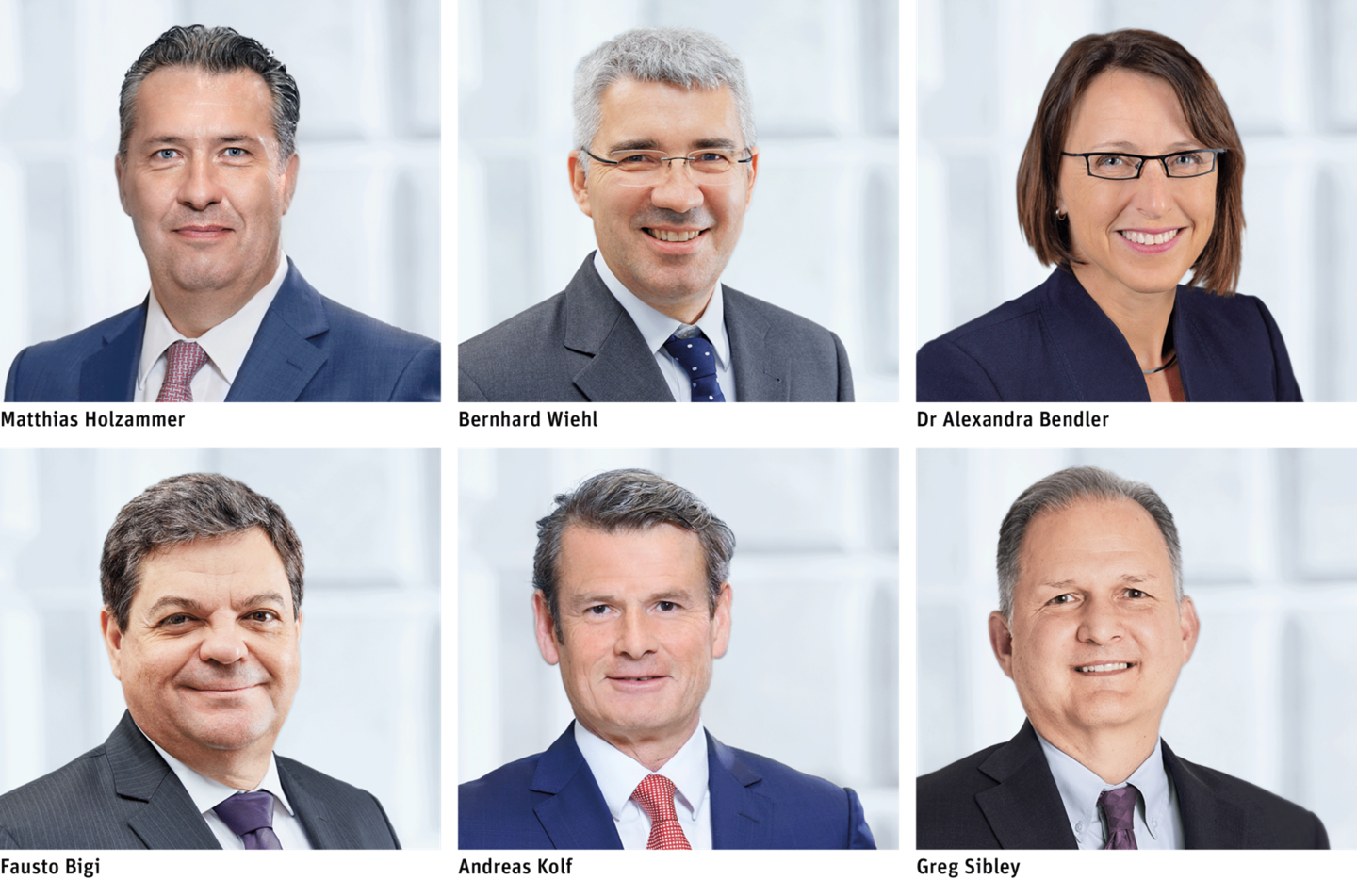 Chief Executive Officer (CEO)
German national
(1965)
Member of the Group Executive Board since 2012* . Educational and professional background Degree in business engineering; from 1993 to 2009 leading functions in operations, plant management and general management at Brose Fahrzeugteile GmbH & Co. KG, Germany, Faurecia Sitztechnik GmbH & Co. KG, Germany, and at Beru Ltd, Germany; from 2009 to 2011 Managing Director Production for Keiper GmbH & Co. KG (later Johnson Controls), Germany, last assignment as General Manager of the Product Business Unit "Metal Region Europe"; from 2012 to January 31, 2019 Head Business Group Europe, Autoneum, Switzerland; in the current function since 2019 . Other activities and vested interests none
* Excluding period from February 1 to October 7, 2019.
Chief Financial Officer (CFO)
German national
(1967)
Member of the Group Executive Board since 2019 . Education and professional background Degree in Mechanical Engineering, University of Applied Sciences, Esslingen, Germany; degree in Industrial Engineering (FH), University of Applied Sciences, Esslingen, Germany; from 1994 to 2000 various functions at TRW Automotive, Germany; from 2000 to 2004 Head of Finance & Controlling, Hella Lighting Systems, Germany; from 2004 to 2006 Director Program Management and from 2006 to 2007 Vice President Program Management and Controlling Europe, at Hydraulik-Ring, Germany; from 2007 to 2011 Head Finance & Controlling and Member of Executive Board, Electronics Division and from 2011 to 2013 Head Finance & Controlling and Member of Executive Board, Lighting Division, Hella, Germany; from 2013 to October 2019 Head Finance & Controlling Business Group Europe, Autoneum, Switzerland; in the current function since 2019 . Other activities and vested interests none
Head Business Group Europe
German national
(1973)
Member of the Group Executive Board since 2019 . Education and professional background PhD in Engineering, Technical University of Darmstadt, Germany; from 1998 to 2002 Research Assistant and Team Leader "Corporate Strategy" in cooperation projects with McKinsey & Company, Technical University of Darmstadt, Germany; from 2002 to 2004 Consultant, Droege & Comp., Germany; from 2004 to 2008 Senior Consultant and Project Leader, Technology Management Group (TMG), Germany; from 2008 to 2010 Head Global Cost Reduction Program, Rieter, Switzerland; from 2010 to 2014 Head Strategy & Marketing, Rieter/Autoneum, Switzerland; from 2014 to 2019 Head Sales & Program Management Business Group Europe, Autoneum, Switzerland; in the current function since 2019. Other activities and vested interests none
Head Business Group SAMEA
Brazilian national
(1959)
Member of the Group Executive Board since 2016 . Educational and professional background Masters in Business Administration, INSEAD, France, and Graduation in Mechanical Engineering, Brazil; from 1986 to 1993 Senior Manager at Itautec Informatica, Brazil; from 1993 to 2006 various management functions at Valeo Automotive Systems, last assignment as Branch Marketing Director Lighting Division, France; from 2006 to 2008 Purchasing Director South America, Faurecia, Brazil; from 2008 to 2011 Head South America, Rieter, Brazil; from 2011 to 2012 Deputy Head Business Group SAMEA, Autoneum, Brazil; from 2012 to 2016 CEO Correias Mercúrio S.A., Brazil; in the current function since 2016 . Other activities and vested interests none
Head Business Group Asia
German national
(1962)
Member of the Group Executive Board since 2016 . Educational and professional background Lawyer; from 1995 to 2001 various management functions at Tiger Wheels Holding, South Africa; from 2002 to 2004 CEO Federal-Mogul Gorzyce S.A., Poland; from 2004 to 2005 Managing Director, Borbet Thüringen GmbH, Germany; from 2005 to 2006 Global Sales Director, Federal-Mogul GmbH, Germany; from 2006 to 2011 Executive Director Operations, Federal-Mogul India; from 2011 to 2013 Director Operations Federal-Mogul Asia Pacific, China; from 2013 to 2016 Vice President and Managing Director Federal-Mogul India; in the current function since 2016 . Other activities and vested interests none
Head Business Group North America
US national
(1964)
Member of the Group Executive Board since 2019 . Education and professional background Bachelor of Science in Mechanical Engineering, Northwestern University, Chicago (IL), USA; Masters in Business Administration in Operations Management and Finance, University of Michigan, Ann Arbor (MI), USA; from 1986 to 1997 various management functions with US automotive companies; from 1997 to 2004 various management functions at Emission Control Division with Tenneco, USA; from 2004 to 2007 Vice President Product Development and Strategic Sourcing with Trico Products, USA; from 2008 to 2010 Executive Director Engineering and from 2011 to 2013 Vice President Engineering and Manufacturing; 2014 Vice President Operations Europe and 2015 Vice President and General Manager North America, Clean Air Division at Tenneco, USA; from 2016 to 2018 President Business Unit Americas at Eberspaecher, USA; in the current function since 2019 . Other activities and vested interests none